Today one of the top economists in the world sent King World News an incredibly powerful piece warning that this unprecedented economic storm is just getting started.  Below is the fantastic piece from Michael Pento.
By Michael Pento of Pento Portfolio Strategies
January 23 – (King World News) – Unprecedented Economic Storm
Economic activity dropped significantly in the first quarters of both 2014 and 2015. During that time the economy, as measured by Gross Domestic Product, grew at a paltry -.9% and .6% respectively. And as you would expect, the con artists on Wall Street tried to come up with a myriad of excuses for these poor performances.
---
In Volatile Markets, Is Wealth Preservation King?
In a King World News interview I spoke with the man who predicted the Swiss National Bank would experience staggering losses and that the Fed would also experience massive losses that will destabilize the global financial system! His company is the only one in the world offering a precious metals investment service outside the banking system, with direct ownership and full control by the investor. He has also become legendary for his predictions on QE, historic moves in currencies, and major global events. To find out what he and his company can do to help answer that age old question for you CLICK HERE.
Sponsored
---
Michael Pento continues:  Instead of questioning the unsuccessful strategies of deficit spending and free money, the unanimous consensus arrived on Wall Street was to blame the weather. 
For the past two years we have been spoon fed the narrative that unusually cold weather is the reason for poor economic growth. 
As the story goes, weather has a strong impact on consumer behavior and our ability to provide goods and services. We have come to realize over the past two years that the American consumer is a surprisingly delicate creature. Cold and uncomfortable temperatures leave them huddled up in their homes and economic activity grinds to a halt. They don't want to go out to eat, buy or sell a home and they don't even step foot in a mall. 
But even worse than cold weather is snow. Economic activity comes to a screeching halt whenever it snows. It's as if the American consumer still rides around in an open carriage and the snow plow has yet to be invented. 
If only there where a way for them to shop at home, maybe through the internet…? But, I digress…
Given this tale, it should come as no surprise that the coldest weather in twenty years and the well-above average snowfall in New England brought the economy to a near halt in the first quarter of 2015. According to the National Climatic Data Center's Northeast Snowfall Impact Scale,–yes that is real data center–the first quarter of 2015, "was only the fourth in 60 years on record with three or more snowstorms sufficiently severe to be rated." 
But the Wall Street cheerleaders weren't the only ones playing the "blame the weather game". The severely cold weather in the first half of 2014 led to 119 separate mentions of the word "weather" in the Fed's Beige Book. According to the Fed, "in sector after sector and region after region, the weather played havoc on conditions".
In the first quarter of 2015, the Fed argued that "the strong dollar, falling oil prices and the harsh winter weather" were major factors in sector stagnation. And the inclement winter weather in the first half of 2015 froze the housing and construction sectors in Philadelphia, Cleveland, Atlanta and Dallas, according to this report.
And in a regional summary in 2015 harsh weather patterns were cited as a drag on agricultural conditions across the country. As farmers nationwide reportedly complained of "wet fields, persistent drought and a cold winter."
Assume for a moment that we are buying into the argument that cold and snowy weather equals economic stagnation. If you believe that to be true, one can reasonably conclude that an unusually warm winter would be a boost for economic growth. 
Think again…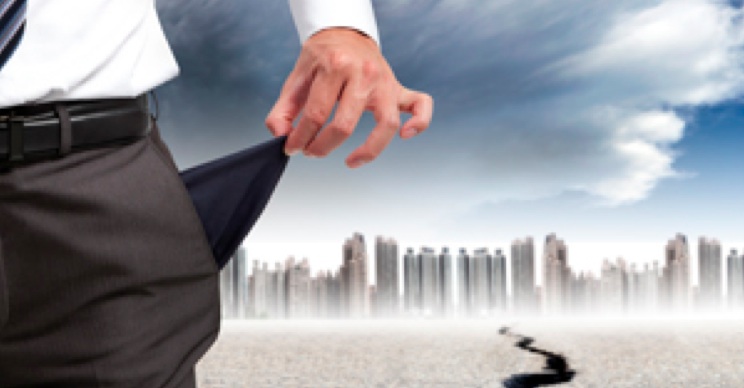 The Atlanta Fed's GDP Now model is currently forecasting real GDP growth (seasonally adjusted annual rate) in the fourth quarter of 2015 at a measly 0.7%. This number was recently reduced when fourth quarter real consumer spending growth fell from 2.0% to 1.7% after the retail sales report from the U.S. Census Bureau and the industrial production was released from the Federal Reserve.
But the fourth quarter of 2015 saw record warm temperatures in more than 20% of the country. Yet surprisingly, it still wound up to be a lousy month for the nation's retailers. Total sales rose only 2.1% in the year; that is the smallest gain since 2009 and down from 3.9% in 2014. Taking out motor vehicles, sales rose 0.9%, substantially lower than 2014's 3.1%.
The Fed's Beige Book warned about weak apparel sales that fell 0.9%, general merchandise fell 1.0% in the month and electronics & appliances also showed contraction. 
With record warm temperatures in December, you would assume the 'blame the cold weather" crowd on Wall Street wouldn't have the audacity to use both warm and cold weather as an excuse.
But as you might expect, Wall Street apologists lack any creativity and are now arguing that unseasonably warm weather failed to put consumers in the "Christmas spirit". Adding to this was all the coats, hats and scarves shoppers didn't buy. 
And of course the Fed, who also failed to see the irony in this argument, mentioned the weather over 40 times in its most recent Beige Book. 
According to the Fed in the last months of 2015, warm weather dampened overall sales including clothing, further depressed energy prices and negatively impacted ski activity in New York, Philadelphia, Richmond, and Minneapolis. I guess the Fed isn't aware that for every ski resort featuring green grass instead of white slopes there were 100 golf courses operating in full swing. 
It appears we have re-entered a new form of the "Goldilocks economy": instead of the temperature of the economy being perfect, the new paradigm is that it cannot be either too hot or too cold for economic growth to be better than 0.7%. In other words, it appears the economy can no longer function properly unless winter temperatures are cold enough to make snow, but yet also warm enough to prevent snow?
But this just subterfuge from government and Wall Street. The truth behind the global growth malaise has nothing to do with weather. Rather, it is that the world has become debt-disabled and global asset bubbles have become addicted to continuous money printing from central banks. Investors need to be in cash and short this market in preparation for the unprecedented economic storm that is just getting started. ***The KWN Special Round Table on the global chaos in 2016 is available now and you can listen to it by CLICKING HERE OR ON THE IMAGE BELOW.

***ALSO JUST RELEASED:  Celente – $15 Trillion Wiped Out In Global Rout But Here's The Elites' Secret Plan To Really Screw The Public CLICK HERE.
***The remarkable KWN audio interview with Gerald Celente, providing action plans and strategies on how to survive and thrive during this collapse, how deep the panic will strike, who will suffer the most, how to avoid the economic catastrophe and turbulence, you can listen to it by CLICKING HERE OR ON THE IMAGE BELOW.
© 2015 by King World News®. All Rights Reserved. This material may not be published, broadcast, rewritten, or redistributed.  However, linking directly to the articles is permitted and encouraged.