While silver is preparing to blastoff, this is what could send the price of silver hurtling over $30 but this is the key.
February 10 (King World News) – James Turk:  I like what I am seeing in the precious metals, Eric, particularly silver. The excitement in silver several days ago has calmed down. Markets can get ahead of themselves when they are too frothy, and that was the case a week or so ago.
Importantly, silver is holding above $26. And I particularly like the fact that the gold/silver ratio remains below 70 near multi-year lows. It is always a good sign when silver is leading the precious metals, and that is what it has been doing since the end of January. Silver is outperforming gold…
---
To learn which company billionaire Eric Sprott just bought a
$10 million stake in click here or on the image below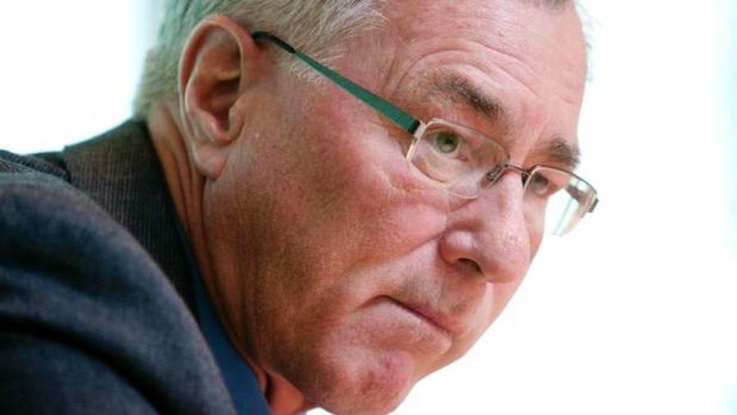 ---
That is not to downplay the potential in gold. I am bullish on gold too. It's just that silver is undervalued relative to gold as indicated by the relatively high gold/silver ratio. Because of its undervaluation, I expect silver to rise in price more rapidly than gold as this precious metal bull market works its way higher in the weeks and months ahead.
THE KEY: Gold & Silver Need More Backing And Filling (Consolidation)
In the short-term, the action today in the precious metals is positive. But I think both gold and silver need a little more backing-and-filling before attacking overhead resistance again at $1875 for and $28 for silver. Of course only time will tell. 
Regardless, precious metals are sitting on a launch pad, and they don't need much of a spark to rocket higher. For this reason I am focusing on March silver option expiry later this month. 
You can see the launch pad in this chart.
Silver Is Preparing To Blastoff!
I have mentioned a number of times over the years how the shorts and the central planners force down precious metal prices as we move into option expiry. Doing so enables them to maximize their profit because they are the major sellers of calls. So I am wondering whether they will try to force silver lower as its option expiry approaches at the end of this month.
This Could Send Silver Hurtling Over $30
The other alternative of course is what I hope happens. It is the market forcing these options sellers to unwind their delta hedges on their option positions, which means they become silver buyers. That rarely happens, but it has happened in the past. So it will be interesting to see if the option sellers get squeezed and become buyers. If so, that could provide the momentum needed to send silver over $30 by the end of this month.
Also released! Central Banks Are Losing Control Into A Perfect Storm CLICK HERE TO READ.
Also released! Tesla May Start Buying Gold & Silver After $1.5 Billion Bitcoin Purchase CLICK HERE TO READ.
Also released! No Physical Silver In London, Mining Stocks Set To Skyrocket, And Look At What The Public Is Doing CLICK HERE TO READ.
To listen to Gerald Celente discuss why gold and silver will surge strongly and what surprises to expect in 2021 CLICK HERE OR ON THE IMAGE BELOW.
KWN has now released an audio interview with Alasdair Macleod discussing the shortages in the London metals market and you can listen by CLICKING HERE OR ON THE IMAGE BELOW.
Also released! Gold & Silver Surging As Long Term Unemployment Hits Staggering 39.5%, But Here Are The Key Levels To Watch CLICK HERE TO READ.
Also released! Swiss Firm Issues Major Warning About QE-To-Infinity, Gold, Silver And The Great Reset CLICK HERE TO READ.
© 2021 by King World News®. All Rights Reserved. This material may not be published, broadcast, rewritten, or redistributed.  However, linking directly to the articles is permitted and encouraged.