With the price of gold approaching the  $2,000 level, the silver and gold set up is extremely bullish, plus that giant sucking sound all-time records and collapses!
Silver Set To Soar
April 12 (King World News) – Otavio Costa:  The set up is here. If silver were to follow other commodities, it would imply a massive appreciation from current levels.
Silver (WHITE) To Soar Higher vs Commodities (RED)
Gold
Graddhy out of Sweden:  Gold has produced some of the best technical analysis ever seen during the last 20 years. Very nice combo backtest for Gold here of black line 2011 highs at 1923, plus fib 38.2% retracement. Note the perfectly synced levels. We also have an expected sideways move at 1923 in order to reconnect with MA10, which is now done.
Gold Poised To Surge Significantly Higher
Now That Consolidation Is Complete
Silver
Graddhy out of Sweden:  Love Silver's stylish daily chart here. Backtesting purple & yellow trend lines with a blue bull flag. Triple backtest on April 5-7th: – MA50, fib 50%, yellow trend line Quadruple backtest on March 29th: – MA200, fib 61.8%, purple trend line, blue bull flag Bullish chart.
Silver's Bull Flag Extremely Bullish
That Giant Sucking Sound
Peter Boockvar:  We have a giant sucking sound of Fed liquidity via quantitative tightening that is going to have to be replaced by other buyers of Treasuries and MBS at the same time we have a flood of Treasury supply. There will be buyers of course but unclear as to what price. At an ultimate pace of $95b per month and about $1.1T per year, there are a lot of needed buyers because foreigners have and will likely continue to shrink both their outright buying and as a result the percentage of their ownership. Banks have been reducing their holdings of Treasuries and MBS over the past month but they will be called upon to reverse that. Pension funds are finally getting an opportunity to pick up some yield but will it be enough?. Uncle Sam will take any other suggestions and they'll take your call at 1-800-UNC-LSAM…
---
Billionaire Eric Sprott is a big investor in this remarkable silver company click here or on the image below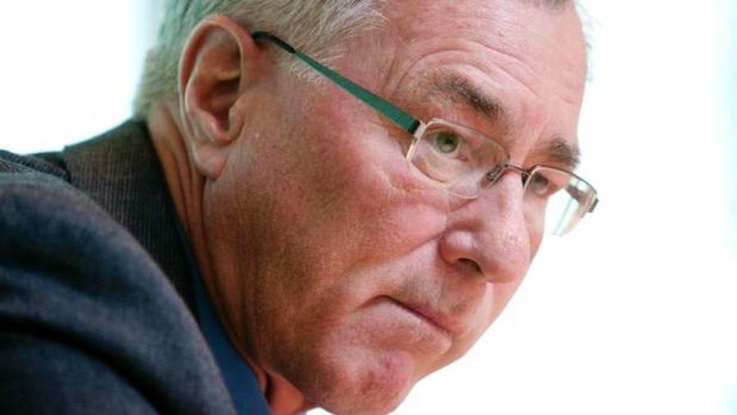 ---
It's been impossible to answer the question of 'where would yields be if it wasn't for QE?' Sometimes QE did the opposite of what was intended, seeing yields rise under QE1 and QE2. On the other hand yields rose under QT and we should assume the anticipation of it this time around has been a contributing factor in the recent rise (among a few other reasons).
Collapsing Confidence And More "Transitory" Inflation
To this, in today's March NFIB small business optimism index that fell to 93.2 from 95.7, the weakest since April 2020, the Higher Selling Prices component rose another 4 pts to 72%. That is the highest on record dating back to 1980 where it peaked in that cycle 40 yrs ago at 47. It's 42 year average is just 9.5 and reflects how literally off the charts we are.
Higher Selling Prices Shatters All-Time Record Hitting 72!
42 Year Average Is Just 9.5!
With respect to the outlook, those that Expect a Better Economy plunged by another 14 pts to -49%. This component goes back to the beginning of this survey in 1973 and it has never been lower. So that includes the 1973-1974 recession, the one in 1981-1982 that was followed by one in 1990-1991, then in 2001-2002, the housing bubble and crash in 2007-2009 and finally covid.
Those Who Expect A Better Economy Collapses
To All-Time Low Reading Of -49!
Those that Expect Higher Sales fell 12 pts to -18%, the lowest since May 2020. In turn, those that said it's a Good Time to Expand declined by 2 pts to 6%, matching the least also since May 2020. 
Bottom line, inflation is now the number one problem for small business, surpassing the labor market situation where previously the demand for labor far outpaced the supply but still exists. The NFIB said "With inflation, an ongoing staffing shortage, and supply chain disruptions, small business owners remain pessimistic about their future business conditions." 
We can analyze the upcoming earnings of companies in the S&P 500 in the coming weeks all we want to gauge the state of the business world but it is small and medium sized business that are most hurt by the inflationary environment we are in, the earnings impact that it has, and the capital spending response it brings. That said, yesterday's big cap tech selloff wasn't just because of the jump in rates as many tech companies, Apple in particular, do big business in China where earnings there are under threat because of the economic slowdown and shutdowns…
---
To find out which silver company just made a major acquisition that will
quadruple their production click here or on the image below

---
"I Remain Very Positive On Gold And Silver"
Not that you're surprised but I remain very positive on gold and silver and they trade great in the face of falling real rates and the selective strength in the dollar vs the euro, yen and pound. I say 'selective' because the commodity currencies are trading much better vs the dollar. With the sanctioning of the Russian central bank, gold as a reserve asset with no counter party liability is an ever valuable reserve to own.
On Friday the CRB food price index closed at a fresh record high and just to quantify its impact, the World Bank estimates that food costs make up about 17% of consumer spending in developed economies. It gets to as much as 40% in some countries in Africa.
CRB Food Index Hits Another All-Time Record High
With respect to Ukraine and what they've been able to plant now and thus harvest in the summer/fall, the UN Food and Agriculture Organization is currently estimating that they will plant between 70-80% of their land but not planting 20-30% is a huge amount.
Also, 40 Year Chart Shows Core Goods Prices
Remain Near All-Time High
ALSO RELEASED:  GOLD BREAKOUT: Next Stop For Gold $2,035-$2,070 Then Higher, Plus Look What Crashed To Lowest Level In History CLICK HERE.
ALSO RELEASED:  James Turk – The Surprise Leading The Gold & Silver Markets Higher, Mining Stocks Ready To Fly CLICK HERE.
ALSO RELEASED:  The Financial Doomsday Clock Is Close To Midnight CLICK HERE.
ALSO RELEASED:  $35,000 GOLD: But Gold's Initial Surge Will Be A Wakeup Call CLICK HERE.
To listen to one of Gerald Celente's greatest interviews ever discussing the BIS giving marching orders to central banks around the world to raise interest rates and end QE CLICK HERE OR ON THE IMAGE BELOW.
To listen to Alasdair Macleod discuss Russia setting up the gold market for a massive short squeeze CLICK HERE OR ON THE IMAGE BELOW.
© 2022 by King World News®. All Rights Reserved. This material may not be published, broadcast, rewritten, or redistributed.  However, linking directly to the articles is permitted and encouraged.