On the heels of a remarkable week where the world witnessed the greatest political upset in history and subsequent chaos in global markets, today King World News is pleased to present an extremely important update on the war in the gold market from Michael Oliver at MSA. Oliver allowed KWN exclusively to share this key report with our global audience after last week's takedown in the gold market.
By Michael Oliver, MSA (Momentum Structural Analysis)
November 13 (King World News) – Gold: If one seeks to capture large trends, then measure large… If one does not have a long-term map to watch as the trend unfolds, then it's all too easy to run when some bullets fly.  And they always fly…
Continue reading the Michael Oliver piece below…
---
Advertisement
To hear which company investors & institutions around the globe are flocking to
that has one of the best gold & silver purchase & storage platforms
in the world click on the logo:

---
How We Got To Where We Are Today
MSA projected a blow-off type move in gold, commencing in September 2009, based on price and momentum concurrence and especially its relative performance breakouts vs. global stocks, (report was entitled "Gold is Speaking!")  Momentum then broke out over a three point downtrend, noted by the first red line.
During that rise a very large price selloff occurred in early 2010 that no doubt shook teeth and generated widespread doubt.  Big as the drop was, it did not negate any long-term structural factors on momentum.   Nothing reversed that bull view on our part until momentum broke down in early 2012 (second red structure was violated – a line defined by many points along the line) at around price of $1700 (see middle of second chart above).  
Then after the top in 2011/2012 and after momentum had already begun to cave, there came a hair curling rally in late summer 2012.  But for annual momentum it was a laughable and uneventful rally.  It did not alter the major downside that had already been signaled by momentum early that year.  Therefore MSA was not impressed.  Many no doubt went long thinking the gold bull was on again. Not!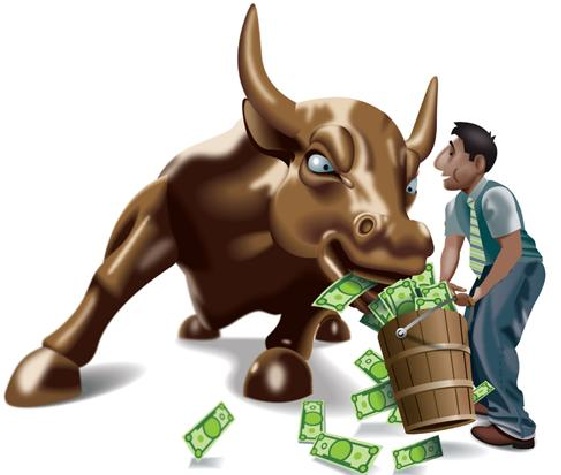 The Gold Bull Market Breakout
Then with momentum basing action that was optimally clear and massive, gold's momentum broke out upside as price moved up into the mid-$1100s in February 2016.   The massive flat red line on momentum was blasted through (see breakout on far right hand side of chart two above.
MSA remains resolutely bullish and asserts that a long-term annual momentum uptrend is underway.  Exit if you must, based on your own level of risk tolerance (each investor and asset manager is different, after all), or if your time scale of participation is short-term.  
MSA defines trends, often intermediate and short-term ones in many markets, but in the case of gold we argue that a long-term vista must dominate at this point in time, due to massive shifts underway in other asset categories.  Implications of those shifts going forward are quite large, such that gold is likely to be at the forefront of world attention in the coming few years.   
The Dream Of Investors
But remember that the long-held dream of investors to capture and profit from large trends (like the three massive but simple trends shown on the prior page) can never be accomplished if one allows short-term or even intermediate-term trend indicators to have more gravitas than the ongoing long-term trend factors.  In some markets that's a reasonable approach, but at this point in time, with the annual trend dynamics underway, we caution about "trading" gold.  
This annual bull signal is simply too young, has not reached any levels of upside excess, and the downturn on long-term momentum charts in the current selloff is not negating that which was screamed by gold's annual momentum breakout in February. ***KWN has just released one of Art Cashin's greatest audio interviews ever discussing the gold market at length, including the recent takedown in gold, what to surprises to expect in key markets as Trump becomes president, and what impact massive public works projects will have on the United States, inflation, gold, bonds, and much more. and you can listen to this extraordinary interview by CLICKING HERE OR ON THE IMAGE BELOW.
***KWN has now released the extraordinary KWN audio interview with whistleblower Andrew Maguire, where he discusses the gold and silver smash, at what price the large sovereign wholesale bids are located, and much more, and you can listen to it by CLICKING HERE OR ON THE IMAGE BELOW.
***ALSO JUST RELEASED: Whistleblower Andrew Maguire – This Is What The Commercials Banksters Are Up To In The Gold Market CLICK HERE.
© 2015 by King World News®. All Rights Reserved. This material may not be published, broadcast, rewritten, or redistributed.  However, linking directly to the articles is permitted and encouraged.