It's about to get wild, something big is definitely is in the works.
Something Big Is In The Works
December 21 (King World News) – Simon Mikhailovich:  Feels like something big in the works. All these "in person" consultations can't be coincidental:
* Putin & top ministers visited Belarus 
* Medvedev visited Xi w/Putin's "personal message"
* Putin attending Defence Ministry's board meeting
* Zelensky visiting DC
Something is up…
---
Look At Who Is A Big Investor In This Soon-To-Be Self Funding Gold Exploration Company! To learn more click here or on the image below.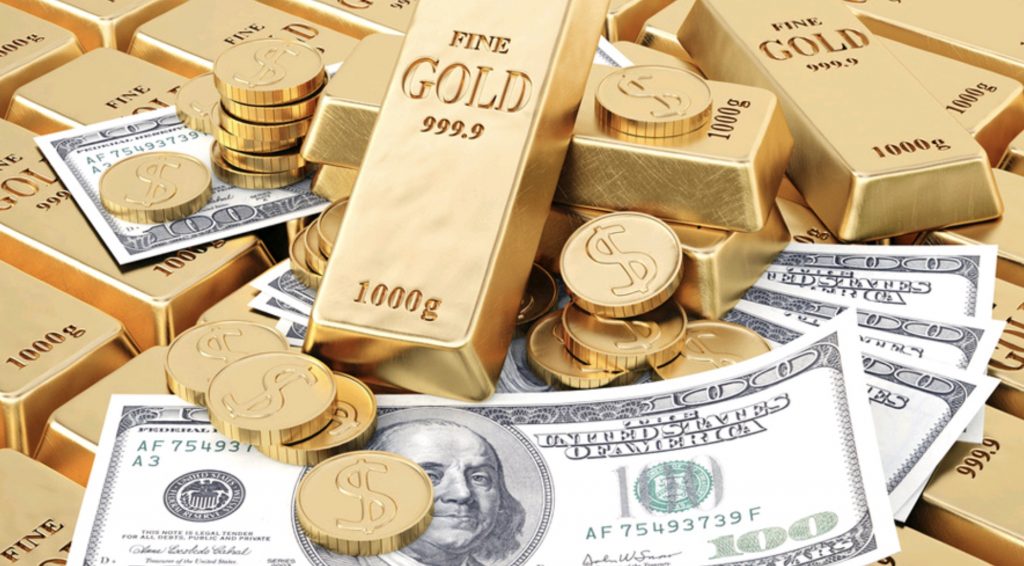 ---
Gold
Graddhy out of Sweden:  GOLD in Canadian dollars is now breaking out above its large triangle pattern, and with that it is the next major FIAT currency to lose its battle against gold, during this long consolidation.
Gold Breaking Out In Canadian Dollars
Silver Bottom Now In Place
Graddhy out of Sweden:  Holding orange trend line backtest so far, while stair-stepping up the right side of the green rounded bottom.
Textbook big low, volatile bottoming phase.
Textbook Big Low Now In Place For Silver
Don't Jinx It: Santa Claus Rally Kicks Off
Art Cashin, Head of Floor Operations at UBS:  I don't want to jinx it, but it sure looks like the end of year seasonal upbeat is kicking in.  We will call it our version of the Santa Claus rally.
The 10:00 a.m. Conference Board Survey allowed the afterburners to kick-in.  The numbers were good on everything from inflationary expectations to employment outlook.
The fickle traders seem to see ten-year yields below 3.70% as mildly bullish for equities.  So, that is continuing to help out, if you will.  We will continue to watch for the visit of the Ukrainian leader and hope that it goes without negative incident.  That will be, obviously, later in the session.
Traders will also watch possible resistance if the rally kicks into high gear up around 3875 and 3890.  The really heavy resistance should be up around 3910 to 3925, but that would be a much stronger rally than this appears to be so far.
Let's hope that the jolly old elf has arrived and cross our fingers that he continues, and we will keep an eye on the newsticker to make sure we get by without geopolitical incident.
Stay safe.
Arthur
Dumbest Idea In History
Peter Boockvar:  Yesterday's rise in Japanese yields sliced the remaining amount of negative yielding bonds in half. We are now down to 'just' $686b of bonds that yield less than zero vs $1.33t on Monday and vs $18t at the peak in December 2020. I'll repeat something I said a while ago, that negative interest rate policy will go down in the history books as the dumbest idea in the history of economics.
Like a magnet, the 10 yr JGB yield rose another 7.2 bps to just under the new 50 bps band at .48%. The 40 yr yield though was unchanged as is the yen after yesterday's spike rally. The TOPIX bank stock index rallied another 2.6% after yesterday's 5% bounce but this index is still down 87% off its peak in 1989 in nominal terms.
Japanese Bank Stocks At The Beginning Of A Historic Rally
The BoJ monetary policy of flattening the yield curve to a pancake, along with NIRP, has literally killed the profitability of the country's banking system. If there is any hope of sustainable positive nominal interest rates and any yield curve possible, there is a lot of value in the Japanese bank stocks.
The one to watch from here on who will replace Kuroda as Governor of the BoJ is Hiroshi Nakaso. He was the Deputy Governor of the BoJ from 2013 to 2018 and wrote a book in May titled "The Last Line of Defense: Crisis and the Bank of Japan" where he talked about ending YCC, only focusing on short term interest rates, ending NIRP and shrinking their balance sheet.
Here are some key comments from the notable earnings calls yesterday,
FDX (a stock we own):
"The declining demand trends we saw at the end of Q1 (their fiscal yr) softened further in the second quarter and we are moving faster and with more determination than ever to accelerate our cost actions…Volumes declines continue to accelerate across major product categories both in the US and internationally throughout the second quarter."
"As we look to the second half of the year, we expect volume declines to begin moderating in Express and Ground by the end of the third quarter with comparisons easing further in the fourth quarter as we lap the onset of softer volumes."
"I think, the main macro issue in the US is really the e-commerce reset. If you were to just follow along here prior to the pandemic, e-commerce represented about 16% of retail. During the pandemic, it peaked at about 22%. And ever since, it's been kind of going down. We are probably about 18% or 19% right now. It's still higher than 16%, but not quite high as 22%. So that's the part of the reset that's going on in the US domestic package business."
NKE:
"Our Q2 growth was broad based across our brands, channels, and geographies…Clearly, our brand continues to not only be top of mind but prioritized by consumer around the globe."
"We believe the inventory peak is behind us as the actions we are taking in the marketplace are working."
"As I said last quarter, we are taking a measured approach in the 2nd half against an uncertain macro outlook, as we continue to prioritize a healthy pull market. That said, we remain positive regarding the strong consumer demand we see across our portfolio of brands, as well as the health of our product franchises."
"we are very pleased with the results in China this quarter. And the thing that we've been really focused on is the consumer, the Chinese consumer and their connection to Nike, Jordan and the Converse brands."
GIS:
"The operating environment remains volatile. While we've seen some modest improvement in recent months, it is still far from pre-pandemic conditions, particularly at our up-stream suppliers…We've seen some modest improvements in the supply chain environment in recent months, with logistics challenges continuing to ease and a slight reduction in the level of upstream supply disruptions."
"Our inflation for the company in the back half of the year will be up double digits. And so it's not as if we're entering into a deflationary environment."
"First of all, we say the economic situation in Europe is more challenging than it is here, particularly driven by energy prices and unemployment, that's a little bit higher than it is in the US…The second, I would say, is that elasticities in Europe tend to be a little bit higher than they are in the US normally, and we're seeing that in this environment as well."  
"it's highly possible consumers will be under more pressure over the next six months. And when that happens, consumers tend to eat at home more rather than eat out more. And so we – it's very possible we'll see – continue to see trading into food eaten at home."
Mortgage Rates Drop Again
With another drop in the average 30 yr mortgage rate to 6.34%, down 8 bps w/o/w and the lowest since mid September, refi applications rose 6% w/o/w but are still down by 85% y/o/y. For perspective and according to Fannie Mae, of those that have mortgages, 92% are below a 5% rate. 71% are below 4% and about half are less than 3.50%. Purchase applications were flat w/o/w but still down 36% y/o/y. We'll see November existing home sales at 10am but that will reflect contracts that were mostly signed over the past 2-4 months.
Meanwhile In Europe
Consumer confidence in Germany improved a touch as expected m/o/m but still remains well below zero at -37.8. GFK said "With the third rise in a row, the consumer climate is slowly working its way out of the trough. The light at the end of the tunnel is getting a little brighter." That said, "The recovery of the consumer sentiment, as we are currently experiencing, is still on shaky ground. If the geopolitical situation were to worsen again, leading to significantly higher energy prices, the light at the end of the tunnel would very quickly become dimmer again or even go out altogether."
European stock markets are bouncing by about 1% with sovereign yields lower and the euro little changed. There is value in European stocks but there always is. We're long the European oil stocks that trade at half the multiples of the US majors as an example.
The December Conference Board's consumer confidence index rose to 108.3 from 101.4 and that was 7.3 pts above the consensus forecast. Both the Present Situation and Expectations components were higher m/o/m. One yr inflation expectations fell 4 tenths m/o/m to 6.7% and that is the lowest since September 2021 "with recent declines in gas prices a major impetus," said the Conference Board. For perspective, the 10 yr average is 5.4%.
The answers to the labor market questions helped to lift confidence, along with the reduction in inflation expectations. After weakness seen in the past two months, those that said jobs were Plentiful rose and those that said they are Hard to Get fell. Looking out 6 months, a higher number see 'more jobs' but only after the November drop. Income expectations moderated to a 4 month low.
Spending intentions were mixed. They rose a hair for those looking to buy an automobile but fell for those looking to buy a home (though off the July low when mortgage rates hit its highs). Those that have plans to buy a major appliance fell to a 5 month low. Positively, those that plan a vacation in the coming 6 months rose to the best since February 2020 but at 46.2 is still well below that 54.9 print back then as the Conference Board believes "this shift in consumers' preference from big-ticket items to services will continue in 2023."
Bottom line, at 108.3, it is approximately the 50% retracement of the confidence drop from February 2020 to the bottom in April 2020. But, with the Expectations component "still lingering around 80", the Conference Board said this is "a level associated with recession." Higher inflation, albeit at a slowing trend, and interest rate hikes, will remain the 2023 headwinds for the consumer.
Home Sales
Existing home sales in November totaled 4.09mm, about 100k under the estimate and down from 4.43mm in October. If we don't include the immediate months after the spring 2020 shutdown, this is the least number of home transactions since November 2010 right after you know what.
Existing Home Sales Continue To Collapse
The median home price moderated to just 3.5%, the slowest pace since June 2020 and April 2019 prior to that. That however is a very good thing for the first time buyer as it could ease some of the pain of a 6%+ mortgage rate. That first time buyer made up just 28% of purchases for a 2nd month and near the lows of 26%. Months' supply held at a still muted 3.3 and Days on the Market totaled 24 vs 21 in October, 19 in September, 16 in August and 14 in July.  
A "Frozen" Housing Market
The NAR referred to the home purchase market in November as "frozen" but reasons we're all too aware of, "rapid increase in mortgage rates, which hurt housing affordability and reduced incentives for homeowners to list their homes." We'll see in Q1 2023 whether a mortgage rate off the peak will be enough to trigger more activity but I'll say again, I still believe the key question is how much do home prices need to fall in order to really spur more transactions if mortgage rates stay high. In some of the previously hot markets, it could possibly be 10-20%.
ALSO JUST RELEASED: The Price Of Silver Just Had A Historic 10-Year Breakout CLICK HERE.
ALSO JUST RELEASED: Here Is Why Gold Surged $30 And Silver $1.25 CLICK HERE.
ALSO JUST RELEASED: BUCKLE UP: This Silver Bull Market Will Be One For The History Books CLICK HERE.
ALSO JUST RELEASED: The Trifecta For Gold Is In Place But Are Investors Prepared? CLICK HERE.
ALSO RELEASED: ALERT: Collapse In Gold Production To Unleash Skyrocketing Gold & Silver Prices CLICK HERE.
ALSO RELEASED: Global Financial Chaos: It's Now Inevitable CLICK HERE.
ALSO RELEASED: SentimenTrader Says Gold And Mining Stocks Are Set To Rally CLICK HERE.
ALSO RELEASED: MORE COMEX DELIVERIES: Gold & Silver Demand Has Now Exceeded Supply For 2 Years CLICK HERE.

© 2022 by King World News®. All Rights Reserved. This material may not be published, broadcast, rewritten, or redistributed.  However, linking directly to the articles is permitted and encouraged.