Here is a look at gold, silver and ominous headlines, one of the most important trading lessons ever, plus more problems for already crippled restaurants.
More Problems For Restaurants
July 15 (King World News) – Liz Ann Sonders, Chief Investment Strategist at Charles Schwab:  Where's inflation? Look to food … restaurants are serving fewer customers & rising foods costs are adding to already-slimmer profits for struggling industry (see below).
Serious Food Inflation Further Crippling Hurting Restaurants
Industrial Base Metals May Have Just Hit Bottom
Nautilus Research:  Industrial Metals/SPX:
* Similar Depth of Decline to 1999 *
Possible Completion of 5 Waves (see below).
One Of The Most Important Trading Lessons Ever
Peter Brandt:  "As trader for 45 years I've seen the same theme again and again The demise of amateur traders is too much size. Their greed motivates them to over-size trades. The reality is that adopting smaller sizing will improve long-term profitability. Seems contradictory, but it is not."…
---
Listen to the greatest Egon von Greyerz audio interview ever
by CLICKING HERE OR ON THE IMAGE BELOW.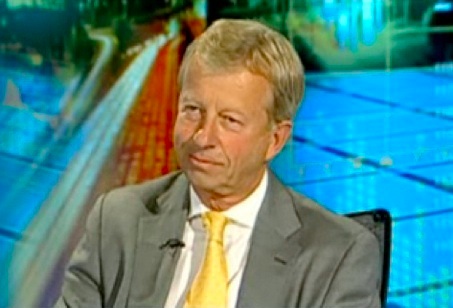 Sponsored
---
Impressive Performance For Gold Today
Fred Hickey:  "With Moderna vaccine news, today was supposed to be a "risk on" day (typically bad for gold & silver). The 1st Moderna vaccine rally (May 18) saw gold sink $13. Algos/computers initially sold gold this A.M. but losses now wiped out and gold & silver are slightly up. Impressive performance."
Gold, Silver And Ominous Headlines
James Turk:  "Headlines like this are ominous (see below).
But monetary history shows that banks are fragile. UK's Northern Rock bank-run in Aug 2007 was an early warning of the 2008 crisis. Is this another early warning? Own physical gold & silver to avoid counterparty risk."
Perfect Bullish Storm For Silver, Plus A Monster Gold Catalyst
***Also Released: Perfect Storm Pushing Silver Price Towards Historic Breakout, But There Is Also A Monster Gold Catalyst CLICK HERE.
***To listen to the powerful KWN audio interview with Egon von Greyerz discussing the coming global collapse and the breakouts in the gold and silver markets click here or on the image below.
© 2020 by King World News®. All Rights Reserved. This material may not be published, broadcast, rewritten, or redistributed.  However, linking directly to the articles is permitted and encouraged.