Fed's tsunami of liquidity to send gold returning to record high above $2,000.
Gold Returning To Record High Above $2,000
May 27 (King World News) – Ole Hansen, Head of Commodity Strategy at Saxo Bank:  Gold and to a lesser extend silver continue higher with the yellow metal getting close to a technical level that, if breached, may trigger renewed focus on a return to the August record high above $2000. Spurred on by a friendly macroeconomic environment, the yellow metal now trades up on the year following a 14% rally from the April low.
Fed's Tsunami Of Liquidity
The chief theme across markets which have boosted risk sentiment is the Fed's ongoing tsunami of liquidity provisions, a development which potentially could be sending unreliable signals from the Treasury markets where yields, despite the inflation focus, have fallen. Not least the very short end, where banks tend to park their excess cash, have seen demand resulting in a very strong 2-year auction yesterday driving the yield down to just 14 basis point…
---
To find out which silver company just made a major acquisition that will
quadruple their production click here or on the image below

---
Another Gold Bullish Catalyst
Additional support has been provided by continued dollar weakness with the Bloomberg Dollar Index having fallen to within 0.25% of the key support level from where it has bounced on two previous occasions in early 2018 and most recently on January 7 this year. For the gold rally to extend beyond current levels, U.S. economic data needs to continue the recent downward trajectory. While not reducing gold's supportive inflation pressures, a corrective period of the U.S. data cycle should continue to hold down U.S. Treasury yields while adding downward pressure on the dollar.
Having broken above $1900 the next key level being $1923, the 61.8% retracement of the August to March correction. A break above this level may further increase the technical tailwind and raise renewed focus on the August record high at $2074. To the downside, smaller levels of support can be found at $1890 and $1870 ahead of the 200-day moving average at $1844.
Gold In Beautiful Uptrend Channel
Apart from the mentioned tailwinds from lower bond yields and a weaker dollar, the improved technical outlook during the past month has finally triggered the need from longer term trend funds to calibrate their positions, something they are currently doing through constantly bidding in smaller lots. A development which helps to explain the lack of consolidation or correction during the past few weeks.
Steady Inflows Into Gold ETFs
Total holdings in exchange-traded funds backed by bullion has seen steady inflows of 51 tons since bottoming out at 3090 tons on April 29. Still more than 327 tons below the peak from last October it highlights a market that is competing with other asset classes for attention, not least cryptocurrencies which despite their recent collapse remains a challenger. In the week to May 18 money managers extended their net long in COMEX gold by 12% to 107,000 lots or 10.7 million ounces. A 16-week high which is still some 62% below the near record peak from February 2020.
Money Managers Remain Underexposed To Gold
Bottom Line
Gold and to a lesser extend silver continue higher with the yellow metal getting close to a technical level that, if breached, may trigger renewed focus on a return to the August record high. Apart from a dollar at its weakest since January, the chief theme driving the current rally is the Fed's ongoing tsunami of liquidity provisions which have boosted the general level of risk appetite through its downward pressure on treasury yields…
---
ALERT:
Legendary investors are buying share of a company very few people know about. To find out which company CLICK HERE OR ON THE IMAGE BELOW.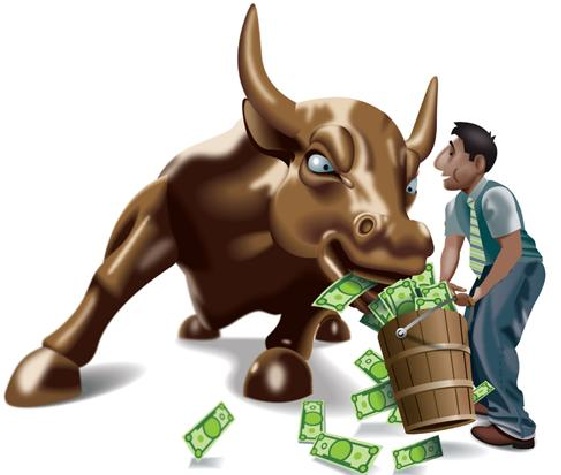 Sponsored
---
Also…
Peter Boockvar:  There is much being made of the explosion in usage of the Fed's overnight reverse repo facility where as of yesterday a total of $450b was used, a massive amount and the excuse of quarter end can't be used. It is just another negative side effect of ZIRP and QE and the game of whack a mole where the rain of money they keep pumping out is trying to find a home, particularly money market funds that don't have access to IOER.
WTF?
Nothing To See Here…More Fed To The Rescue
Assume that at the next FOMC meeting the Fed raises the interest rate paid on reverse repos and excess reserves by 5 bps to address this and that is just a plumbing issue mostly caused again by Fed policy. The RRP is the facility that is supposed to put a floor on rates while the IOER keeps a lid.
Also…
Something Big Is Happening In Fiji!
Kalo Gold announced a significant step forward with exploration results at its high grade 100% owned, large 360 km2 Vatu Aurum Project in the prolific Ring of Fire in Fiji. Exploration has outlined a high-priority target called Mouta, which delivered high gold-copper-silver grades including 6.2g/t Au, 645g/t Ag and 3.12% Cu (19.3g/t AuEq) from outcrop and 3.06g/t Au, 819g/t Ag and 1.63% Cu (16.6g/t AuEq) from surface stockpile sampling. Drilling is underway at the Qiriyaga Hill target, with two holes pending assays.
Both holes intersected thick (18m and 10m, respectively) intervals of breccias, including one hole being the deepest yet – results are expected soon. Past intersections have delivered very high grades including 8.75 m at 36.02 g/t Au (61.25 to 80m) and 10 m at 27.18 g/t Au (76-86 m) including 120 g/t Au between 80-83m in drill hole KCD-17. Lastly, a geophysics program shows that the Qiriyaga Hill target area is potentially much bigger. Kalo Gold only recently went public and trades under the symbol KALO on the TSX Venture.
To listen to Peter's predictions for silver, gold, and other global markets CLICK HERE OR ON THE IMAGE BELOW.
***To listen to Alasdair Macleod discuss the end of the paper gold and silver markets, LBMA troubles, and Basel III rules impacting gold CLICK HERE OR ON THE IMAGE BELOW.
© 2021 by King World News®. All Rights Reserved. This material may not be published, broadcast, rewritten, or redistributed.  However, linking directly to the articles is permitted and encouraged.