Investors can expect to see more dislocations in stocks in the coming weeks and months. This is a look at how wild the trading was today.
Dislocations R Us
By Bill Fleckenstein President Of Fleckenstein Capital
October 23 (King World News) – The action got interesting last night, as early in the evening the SPOOs fell about 0.5% for no particular reason. Eventually China fell a couple of percent as well, as did Europe, then a couple of earnings bombs from Caterpillar and 3M were all the excuse needed to really pound the market…
---
ALERT:
Mining legend Ross Beaty (Chairman Pan American Silver) is investing in a company very few people know about. To find out which company CLICK HERE OR ON THE IMAGE BELOW.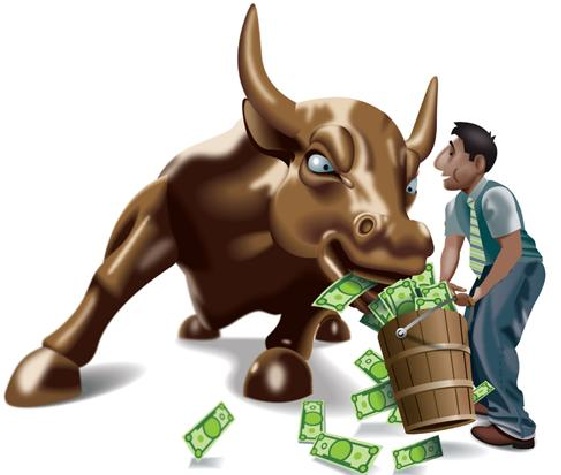 Sponsored
---
One Lump, Or Two?
My theme of dislocations continues to play out, as 3M gapped about 7%, CAT fell a similar amount, and there were other examples elsewhere. A European supplier in the Apple food chain, AMS AG, issued disappointing guidance, and it fell 25%. Gaps and dislocations are a feature of the action I have been expecting and discussing for quite some time. If they continue, people are going to get trapped and scared quite quickly.
As of a couple of hours into the day, the Dow and S&P were a bit more than 2% lower while the Nasdaq fell about 3%. About the only thing bucking the undertow, besides the mining stocks, was Tesla, as expectations are running hot that it is going to report free cash flow tomorrow. Another of my long-held perverse beliefs is that if Tesla ever started to report anything resembling "real" numbers and it began to be treated as a "real" company, then it might be valued as such and could see its stock price tank on what was perceived as good news, so I am keeping an eye on it.
Mind the GAAP
Yesterday, I was musing about whether earnings could save the tape, and thus far it looks like they can't, and now you have all the major indices gapping below their 200-day moving averages. I'm not sure what the algos have programmed, but I can't believe the technical types will be all too thrilled with that development.
In any case, the scene by mid-morning was pretty brutal, but by early afternoon dip buyers had cut the losses in half. From there, after a brief stall, the market lifted again and with an hour to go, when I had to leave, the major indices were all less than 0.5% lower. Please check the box scores for the closing prices, as I imagine they will have moved quite a lot.
Away from stocks, oil was hit for 4%, green paper was weaker (as you might have guessed given the stock market action), and fixed income enjoyed a large kneejerk rally. How far that can carry I don't know, but this is one reason why I haven't wanted to be involved in bond shorts, because I figured when stocks finally got cracked bonds would have a pretty good-sized bounce. We will just have to see how far each side of that teeter-totter can go.
Turning to the metals, they gained over a percent or so before they backed off to about half that. They were about 1% higher when I took off. As for the miners, they were mixed and pretty timid.
Included below is one question and answer from the Q&A's with Bill Fleckenstein.
Soon Central Banks Will Be Reversing Gears
Question:  Bill in your opinion is QT a fig leaf the Fed is using to attempt to salvage their credibility? Since the whole CB illusion is a massive confidence scheme anyway they must be desperate to try and save their reputations. Otherwise why not do QE to infinity until the Black Swan swoops down on the markets?
Answer from Fleck:  "No, they are not introspective enough to even consider the possibility that they should contemplate their actions (and credibility). They think QE worked, and now they can complete QT and we will live happily ever after. But they will soon be reversing gears (once the stock market falls enough), IMO."
ALSO JUST RELEASED: With Stocks Plunging Across The Globe And Gold Rallying, Take A Look At This… CLICK HERE TO READ.
***To subscribe to Bill Fleckenstein's fascinating Daily Thoughts CLICK HERE.
Adrian Day, Founder of Adrian Day Asset Management, discusses the gold and silver markets and much more and you can listen to it immediately by CLICKING HERE OR ON THE IMAGE BELOW.
© 2018 by King World News®. All Rights Reserved. This material may not be published, broadcast, rewritten, or redistributed.  However, linking directly to the articles is permitted and encouraged.