Central banks comment as gasoline prices hit the highest level in 7 years, and interest rates rising but what will happen when stock markets collapse?
Bank of England
October 11 (King World News) – Peter Boockvar:  The Bank of England it seems might not be waiting to at least March for its first rate hike. As their QE program ends at year end 2021, rate hikes are now the crux of any tightening discussion. In an interview over the weekend with the Yorkshire Post, Governor Bailey said on inflation:
"We are going to have a very delicate and challenging job on our hands so we have got to in a sense prevent the thing becoming permanently embedded because that would obviously be very damaging. Unfortunately, if you look at our last forecast, it is going to go higher, I am afraid."
This was followed by comments from Michael Saunders, a hawkish BoE member, who spoke in the Telegraph and said after he wasn't going to give a precise time for tightening:
"But markets have priced in over the last few months an earlier rise in Bank Rate than previously and I think that's appropriate."
With the markets having priced in a 50% chance of a December rate hike and a 100% chance that it happens by February, Saunders said;
"I'm not trying to give a commentary on exactly which one, but I think it is appropriate that the markets have moved to pricing a significantly earlier path of tightening than they did previously."
Those December odds today after his comment are now up to 60%. 
The 2 yr Gilt yield in response is higher for the 6th straight day by 5 bps to .60%. It was .23% one month ago and it's the highest since January 2020.
Interest Rates Rising For Now But What
Will Happen When Stock Markets Collapse?
The 10 yr yield is up by 6 bps to 1.21% vs .75% one month ago and that is the highest since May 2019. The pound is up too. Combine these comments with another jump in energy prices and the rest of Europe is seeing higher rates again today across the board. The German 10 yr bund yield is the least negative since May 2021 and is only a few bps from the highest since May 2019.
German Yields Less Negative
Gasoline Prices Highest In 7 Years
By the way, on energy in the US, AAA said the average gallon of gasoline yesterday was $3.27, the highest in 7 years.
And herein lies the problem that I've been talking about for a while but today it is actually an ECB member that is doing so, Klaas Knot, one who is more hawkish. He acknowledges that easy money stokes speculation and risky behavior and said:
"I am less positive about the build up of financial vulnerabilities and risks. Precisely now that the economy is improving, we tend to be less aware of the vulnerabilities building up. And that is something I would like to guard against."
Knot, I appreciate your concern but it's too late. Relevant for the rest of us in the markets where valuations are historically high on many metrics, credit spreads extremely tight and we know what's also going on in a variety of other asset classes, he went on to say:
"This risky behavior is only sustainable at low inflation and interest rates." 
I've been arguing the same thing that in a world of NIRP, ZIRP, and low rates, high valuations about everywhere, and excessive debt widespread, we are just not set up for any prolonged period of higher inflation. If the fed funds rate was 3% and/or the 10 yr yield at something between 3-5%, we would have much more of a rate cushion to deal with higher inflation and it gets to the point said here a million times for years, central banks should be careful what they wish for in their desire for higher inflation…
---
ALERT:
Legendary investors are buying share of a company very few people know about. To find out which company CLICK HERE OR ON THE IMAGE BELOW.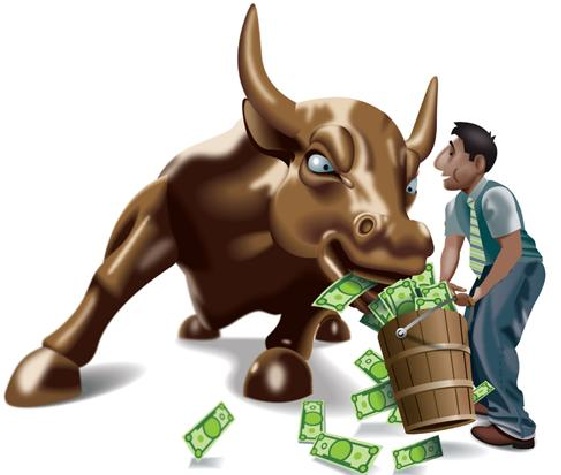 Sponsored
---
Tomorrow we get the full NFIB small business September report but last week we did see the labor market components. Plans to Hire fell back by 6 pts to 26% but off a record high dating back to 1974 after rising by 5 in August (the long term average is 11%). But we saw a fresh high in Positions Not Able to Fill at 51%, up 1 from August. Current and future compensation plans both were higher and at record highs dating back to 1984 when these components were first included.
Current Compensation Plans Soaring
Future Compensation Plans Also Soaring
The NFIB said:
"More and more small business owners are struggling to find workers for their open positions. For most small employers, labor costs are the largest operating outlay and owners will be compelled to pass those costs on to their customers by raising prices."
The underline is mine and we'll see to what extent productivity gains can mitigate this.
Currency wise today we are seeing some bifurcation as commodity currencies are trading better than those that aren't. The Canadian and Aussie$'s are higher while the yen and euro are lower.
Canadian Dollar Strengthening vs US Dollar
Japan in particular is a big importer of energy and even more now after most of their nuclear plants are still shut. Germany we know regretfully decided to close all their nuclear plants and has been relying on more coal ever since. Also helping the Canadian dollar was the strong payroll report on Friday where they've recovered all the Covid jobs lost.
***ALSO JUST RELEASED: Piepenburg: Propaganda And Outright Lies As Our Economic Rome Burns CLICK HERE.
***ALSO JUST RELEASED: Look Who Just Warned $20,000-$50,000 Gold Is Coming As Global Financial System May See Crashes In Everything Except Gold CLICK HERE.

***To listen to why the gold and silver bull markets are about to reassert themselves as well as why you should expect to continue to see massive inflation in the coming years CLICK HERE OR ON THE IMAGE BELOW.
***To listen to this urgent warning about the dangers of hyperinflation as well as a discussion on how to protect yourself and your family CLICK HERE OR ON THE IMAGE BELOW.
© 2021 by King World News®. All Rights Reserved. This material may not be published, broadcast, rewritten, or redistributed.  However, linking directly to the articles is permitted and encouraged.