Art Cashin kicks off 2019 and Peter Boockvar says stay golden this year.
Kicking Off 2019
January 2 (King World News) – Here is a portion of what legend Art Cashin wrote today to kickoff 2019: Over the weekend, the President tweeted that he had a "very good call" on Saturday with President Xi on the topic of trade. In the tweet, the President claimed that "big progress" was made. 
That upbeat tone in the tweet was enough to put a bid under a broad section of U.S. stocks and seemed to help other markets as well. 
The opening pop seemed to stall in the first thirty minutes of trading. Steadily, they let the air out of the balloon until they seemed to circle the wagons just about the time that European markets closed (at least those that were open on New Year's Eve). 
The Dow then began to rally, rising back to the level of the opening highs. Here, once again, they seemed to stall and roll over. By 2:20, they were nearing the post-opening lows. Here again, they circled the wagons and began a rallying process. 
That rally lasted into the final minutes of trading. Once again the rally appeared to stall in the general area of the earlier "top-out" highs. 
With minutes to go, the rally seemed to implode with prices dropping in a near vertical manner in relatively light volume. 
Then, just as we readied for the close, the closing indications suddenly reversed to the buy side. Instantly, buyers hit the market and the Dow shot higher, again in near vertical fashion. 
After that a New Year's Eve cocktail (or five) certainly seemed in order. 
Overnight And Overseas – The Chinese manufacturing PMI fell below 50 to 49.7 for December. Anything below 50 is thought to indicate contraction and that has sent equity markets reeling around the globe. 
Apologists claim the contraction is a simple and logical response to the government's attempts to de-emphasize manufacturing (exports) and increase the service sector (internal growth). Skeptics say the contraction is a result of the current tariff/trade wars with the U.S. So far, the markets seem to believe the skeptics. 
Tokyo remains closed for the New Year holiday. Shanghai sold off the equivalent of a 270 point drop in the Dow. India markets saw a similar fall. Hong Kong got whacked for the equivalent of 650 Dow points. 
European equity markets are also seeing sellers. Paris is the weakest, perhaps due to continued social unrest. Paris is down the equivalent of 450 Dow points. 
Among other assets, Bitcoin is firmer, trading just below $4000. Gold is firmer, trading just under $1290. WTI is trading around $45. The euro is a touch weaker against the dollar and yields are at multi-month lows. 
Yearend Recap – The Dow and S&P both fell about 6% in 2018. The European Stoxx 600 dropped 13%. The Nikkei fell 12%, while the Shanghai Composite lost 25%. Some year, indeed! 
Consensus – Form chart had said that it should be a quiet trading day with a listless trading range in front of tomorrow's payroll data and Powell appearance. So much for the form chart. 
China data has thrown markets for a loop although futures are well above the overnight lows. 
Another wild card could be the quickly called White House meeting for this afternoon. Will everyone show? Will any action result? 
Stay wary, alert and very, very nimble.
Also of importance…
We Enter 2019
Here is a portion of what Peter Boockvar wrote today as the world awaits the next round of monetary madness:  Investing is so easy, right? Get the earnings number right and then slap a multiple on it and voila you have a price. We enter 2019 though with determining both so difficult right now (isn't it always). Earnings will undoubtedly slow in 2019 but to what extent? And what should the right P/E multiple be in return for this slowing and with further monetary tightening (not just from the Fed but ECB and BoJ) ongoing via most likely balance sheet only…
---
ALERT:
Mining legend Ross Beaty (Chairman Pan American Silver) is investing in a company very few people know about. To find out which company CLICK HERE OR ON THE IMAGE BELOW.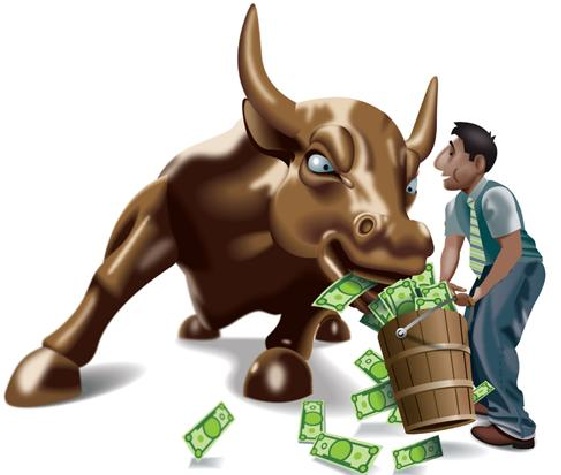 Sponsored
---
On the earnings front, it's very helpful in the midst of this cloudy visibility that Corporate America in coming weeks will tell us exactly what's going on. We get to hear about the real world impact of what's been seen with rates, tariffs, politics and all other things. Will we see more of what FedEx said or like Nike?
Regarding Global Monetary Policy
With respect to global monetary policy, I highlighted a million times last year that Q4 saw the net balance sheet change from the Fed, ECB and BoJ move to zero from $100b per month in Q4 2017. The stock market topped out two days into Q4. Well, in Q1 2019, that change shifts to a net reduction of about $20b per month (Fed taking out $50b, BoJ adding about $30b and the ECB maintaining the size of its balance sheet). While the Fed might be done raising interest rates, central bank balance sheets take center stage. Anyway, is it a good thing that the Fed is done raising rates? Is a fed funds rate of 2.25-2.5% all we can handle? Would you take a better economy and a 3% fed funds? 
With revenue, since 40% of S&P 500 company revenue is sourced outside the US, the risks are obvious as the economic data weakens. On the profit side, the focus on margins will be key. While we've seen relief for those that use energy as an important input, higher labor and transportation costs along with those feeling the pain from tariff related increases in costs will be a pressure on margins.
Focus For 2019 Is Changing
Lastly, I want to make a point again, helped by what the CFO of UTX said last quarter and many earnings conference calls I listened to. The corporate focus in 2019 will be more on deleverging than buying back stock. 
Stay Golden In 2019
Gold is my favorite asset this year, again, but with now the catalyst that the Fed is most likely done hiking rates.
ALSO RELEASED: HAPPY NEW YEAR! Stunning Ways The World Rings In 2019 CLICK HERE TO READ.
© 2019 by King World News®. All Rights Reserved. This material may not be published, broadcast, rewritten, or redistributed.  However, linking directly to the articles is permitted and encouraged.