Today a respected veteran of the markets discussed the volatile trading in global markets, gold, and how many people are being devastated by the economic shutdown.
Not Business as Usual
April 1 (King World News) – Bill Fleckenstein:  "The market continued yesterday's rally, as it gained modestly through midday, with the Nasdaq leading the charge about 1% higher. In the afternoon, however, the market rolled over, losing 2% on the day.
Away from stocks, green paper was stronger, fixed income was weaker, while silver lost about 0.5% versus gold's 3%. Today is first notice for the nearby futures contracts and the spread is now back to about $15, so it's not as radically out of line. (I have been waiting for this day to see if it caused the spread to normalize, and we could then get some sense of where gold really wanted to trade.)
The miners were schizophrenic once again, trading both higher and lower early on before turning lower for good, and while they were weak, they were in line with gold, instead of drastically worse, which is a slight improvement relative to their recent performance.
Lever Well Enough Alone
I suspect that last Friday's and yesterday's head-scratching action in the miners had something to do with the fact that the utter disasters known as 3x-leveraged mining entities were reducing leverage to 2x and changing their effective date to tomorrow. So that would explain the machinations to some degree. Of course, the only thing better than having them take their leverage down to 2x would be if they went to 1x, and then the ultimate dissolution of these ETFs, but that's not going to happen…
---
ALERT:
Legendary investors are buying share of a company very few people know about. To find out which company CLICK HERE OR ON THE IMAGE BELOW.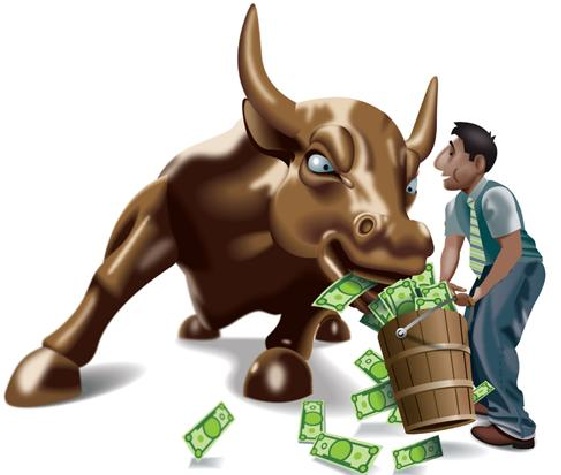 Sponsored
---
On the subject of wishful thinking, I think that the entire market is a bit delusional in acting as though we can get back to business as usual in the not-too-distant future. I think in many ways the market has traded in a retail manner (as opposed to institutional) for quite some time, and that could be because there are so many more millennials "voting" about which stocks to buy. Millennials by definition have less investment experience than folks older than them, and they've also seen almost no negative financial events as adults, so if they haven't read history books, they're not going to have much of an understanding of how ugly things can get from time to time.
Thus, it seems like anything that offers a little hope in the short run about things getting better sees the market ratchet higher, which of course is aided and abetted by the monetary and fiscal changes that have been made, even though nothing fiscal has hit yet and not too much monetary juice (relative to what has been promised) has really gotten into the system.
I don't know how long the market can continue this current rally, but I also don't think the first leg of lower action really finished itself from a liquidation standpoint, as it was arrested by the Fed. I would be shocked if we didn't resume a leg lower at some point and then maybe we'll have some kind of an extended sorting out process. As I noted about a week ago, it's going to be quite hard to have any sort of near-term expectations that you can really feel strongly about, given the size of the variables operating on a day-to-day basis.
The New Abnormal
One thing I'm convinced of is that it's not going to be business as usual for a very long time. All you have to do is think of all the people you know who are in the service economy and see how devastated they are, not to mention the people that depend on them for their livelihood and it's not just the average dog walker or busboy. Many professionals, including physical therapists, dentists, and even doctors will be impacted. The income weakness and devastation will go fairly high up the earnings curve.
We can all hope to do the best for everybody, but to expect economic life to be anything like it was, one has to be either naive or delusional.
To listen to Alasdair Macleod discuss the bullion banks being squeezed in the gold and silver markets, the imminent catastrophe the world faces and much more CLICK HERE OR ON THE IMAGE BELOW.
Bullion Banks' Worst Nightmare
***Also Released: Greyerz – Fake Paper Silver Market, Plus James Turk On The Next Bubble To Burst And Free Market Gold CLICK HERE.
© 2020 by King World News®. All Rights Reserved. This material may not be published, broadcast, rewritten, or redistributed.  However, linking directly to the articles is permitted and encouraged.