There is no way the price of gold has topped. Plus we are in one of the most speculative environments in history.
Speculative Mania
April 17 (King World News) – Otavio Costa:  Call option volumes surged again to all-time highs this last quarter.
This level of interest in derivatives is highly associated with the current retail trading frenzy.
NOT WHAT A MARKET BOTTOM LOOKS LIKE:
One Of The Most Speculative Environments In History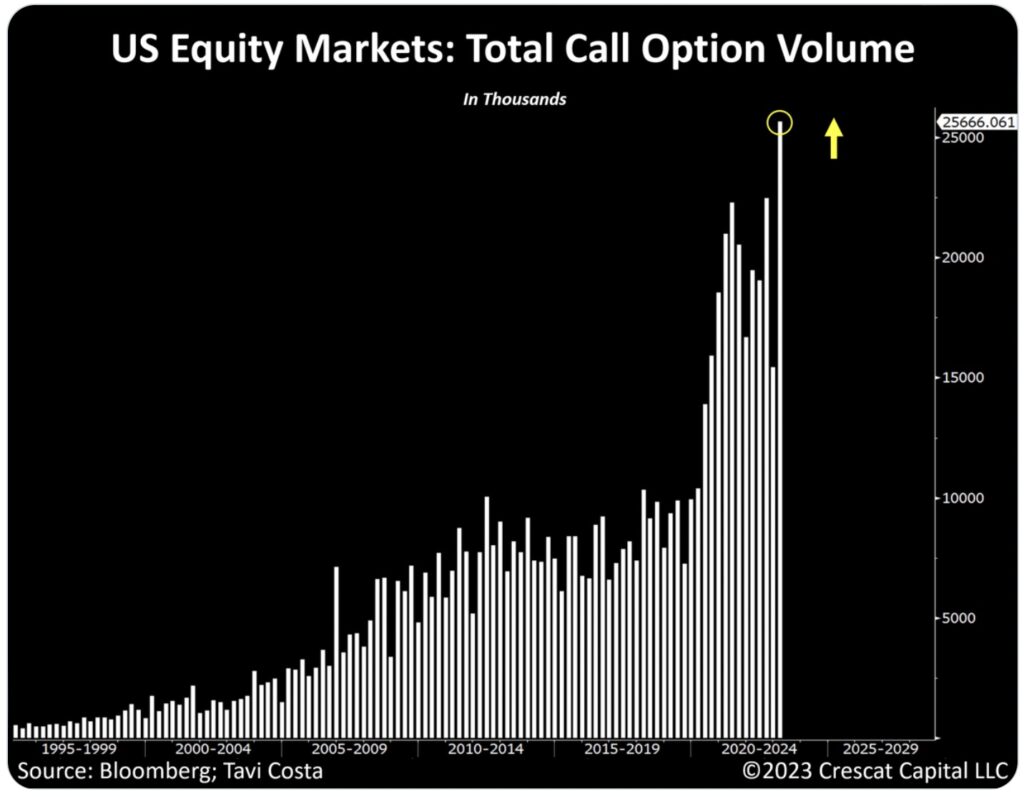 To be clear, this is not representative of a market bottom.
Yes, the explosive growth in very short-term contracts also played a role, but broadly speaking, this is one of the most speculative environments in history…
---
ALERT:
Powerhouse merger caught Rio Tinto's attention and created a huge opportunity in the junior gold & silver space CLICK HERE OR ON THE IMAGE BELOW TO LEARN MORE.

---
BTFD: No Way This Is A Top For Gold
Fred Hickey:  COT:  Managed Money (hedge funds & commodity traders) long gold futures positions -7.3K as of Tuesday BEFORE [Friday's] bashing (likely due to increased shorts). 6.4 ton gold outflows over last two days from largest gold ETF – GLD. Open interest low. No way this is major top.
Gold/Silver had a nice rally. Corrections are healthy. Still zero interest from Western investors. European Gold Forum this week had extremely sparse attendance. May need Teslas/NVDAs/FAANGs to crater first before Western investor interest piques. Likely coming to a Fall near you.
ALSO JUST RELEASED: Bull Market #3 In This Key Asset Is Alive And Well And It Will Be A Game-Changer CLICK HERE.
ALSO JUST RELEASED: Greyerz – This Everything Global Collapse Will Be Unlike Anything Seen In History CLICK HERE.
**To listen to Alasdair discuss the collapsing available physical gold and the other big catalysts for the gold and silver markets CLICK HERE OR ON THE IMAGE BELOW.

© 2023 by King World News®. All Rights Reserved. This material may not be published, broadcast, rewritten, or redistributed.  However, linking directly to the articles is permitted and encouraged.