Fuel is being added to the fire and this is why gold is about to hit all-time highs.
November 17 (King World News) – Peter Boockvar:  With the Fed done raising interest rates (though they won't say so of course), especially now with the labor market showing cracks in its foundation, and the market pricing in rate cuts mid next year, there is still monetary tightening going via QT and will continue to be the case at least for the next few quarters. There is some political pressure too with regards to the Fed's balance sheet.
Rick Scott's Letter To New Fed Members
Back on September 18th, Florida Senator Rick Scott penned a letter to the newly appointed Fed members asking them four questions, two of which referred to the balance sheet. "Will you commit to right-sizing the Federal Reserve's balance sheet and, at minimum, meeting the asset reduction goals put forth by the Committee in January 2022?" And, "Will you commit to reigning in interventionist long-term purchases by the Federal Reserve which only serve to distort markets and misallocate capital resources?" https://www.rickscott.senate.gov/2023/9/sen-rick-scott-pushes-for-accountability-from-new-federal-reserve-appointees
Well, new Fed members Vice Chair Philip Jefferson, Lisa Cook and Adriana Kugler wrote back yesterday. In defining where the balance sheet size will end up, "The size of our balance sheet ultimately will depend on the public's demand for our liabilities, particularly currency and reserves and we cannot specify in advance what that demand will be, hence we are not targeting any particular dollar value for our balance sheet." In other words, he basically said what Powell said at his presser a few FOMC meetings ago, 'we'll know it when we see it' in terms of right size. 
But because that right size is smaller than it is now, "Under plausible assumptions the size of the balance sheet could decline considerably further before reserves reach the level consistent with the ample reserves operating framework." Right now those bank reserves balance total $3.39 trillion and some speculate $2.5 trillion is the needed amount, thus we have maybe about 9 more months of QT at least, totaling $900 billion of liquidity to leave the financial system.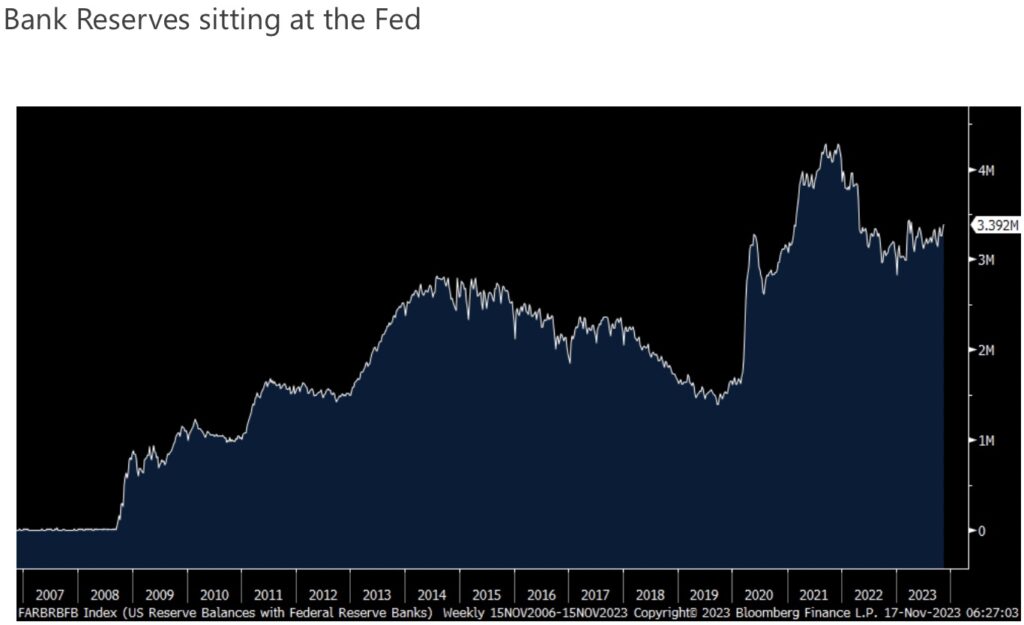 I say 'at least' because the Fed's Reserve Repo Program is shrinking too and has $900 billion left in it. Those bank reserves by the way stood at $1.6 trillion in February 2020 and were at just $12 billion, yes $12 billion, right before Ben Bernanke got drunk with the printing press in 2007.
As of yesterday's report, the Fed balance sheet shrunk by another $45.7b to $7.81 trillion, 88% higher than where it stood at the end of 2019. For perspective, since Q4 2019, nominal GDP is up by 26%.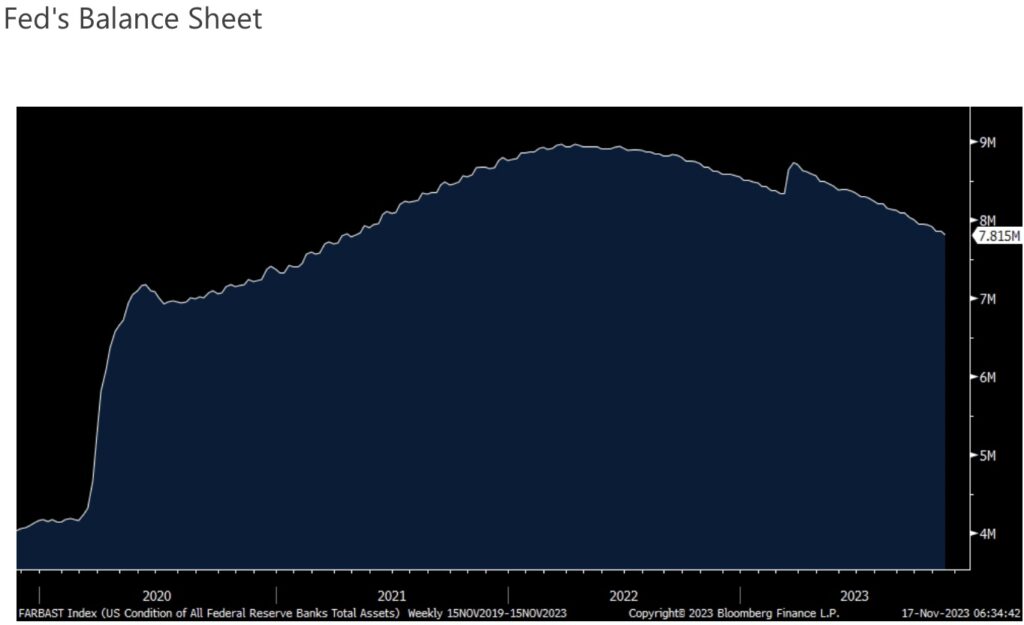 With respect to foreign ownership of US Treasuries, September saw a very large drop of $101.6 billion with the holdings of Japan down by $28.5b and China's down by $27.3b. As September saw a very sharp decline in the values of everyone's holdings as the 10 yr yield in particular jumped about 50 bps in September, this is most likely more a valuation reset rather than a reflection of outright selling. As for the net activity, foreigners sold about $17b of US notes and bonds. Either way, as a % of marketable US Treasuries, foreign ownership continues to fall.
Gold Bull Catalysts
King World News note:  All of this will add fuel to the gold bull market as it prepares to unleash to new all-time highs. Silver will follow to new all-time highs along with the mining stocks.
ALSO JUST RELEASED: People Are Broke But Look At What Heads Of Banks Have Decided To Do CLICK HERE
ALSO JUST RELEASED: Rapidly Deteriorating Global Economic Crisis As Available Cash Is Quickly Disappearing CLICK HERE
ALSO JUST RELEASED: Here Is Yet Another Sign Of Economic Collapse As Silver Prepares To Blastoff CLICK HERE
ALSO JUST RELEASED: STUNNING: Gold Is Breaking Out All Over The World! CLICK HERE
ALSO JUST RELEASED: Record $100 Gold Premium In Shanghai – China May Finally Peg Their Currency To Gold CLICK HERE

© 2023 by King World News®. All Rights Reserved. This material may not be published, broadcast, rewritten, or redistributed.  However, linking directly to the articles is permitted and encouraged.