Despite the orchestrated short-term takedown, the price of gold is set for a historic spike! Plus Fed's massive trading room at it again.
Fed's Massive Trading Room At It Again
March 9 (King World News) – Stephanie Pomboy:  Stocks up 700pts and gold down -$70. Meanwhile, the hits keep coming. This ought to be really helpful right now! Seriously, if I were trying to concoct a formula for destroying the economy, I'd be hard pressed to do better than what we've seen over the last week.
Business As Usual At John Law Inspired Fed
Garic Moran:  As a reminder, John Law routinely marked Mississippi shares higher every morning and Gold lower in a desperate attempt to keep the Bubble from popping. The French public learned to sell the marked up shares to buy the discounted Gold as the currency continued to collapse…
---
Billionaire Eric Sprott is a big investor in this remarkable silver company click here or on the image below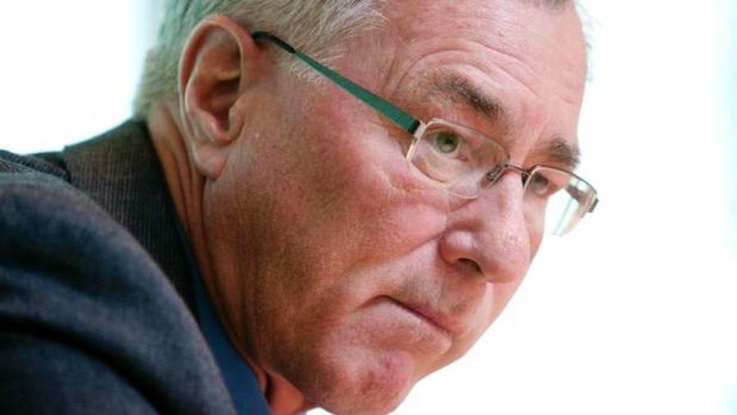 ---
"To The Moon, Alice!"
Peter Brandt:  The long-term (gold) chart is forming a massive Cup and Handle pattern.
GOLD PRICE SET FOR HISTORIC SPIKE:
Gold Has Formed Massive Cup & Handle
Time To Get Physical
Egon von Greyerz:  In a crisis of this magnitude, stay away from paper assets including ETFs of any kind. It is clearly imperative to have physical Silver and Gold stored outside the financial system.
1970s Redux: Price Controls Coming
Luke Gromen:  When you put price controls on gold (via expansion of the unallocated gold market), you eventually have to put price controls on the bond market (QE). When you put price controls on the bond market, you eventually have to put price controls on everything (listen to US politicians).
Also of importance…
Eric King:  "You recently announced the Dolly Varden deal, and if Dolly Varden is acquired, which looks to be the case in the future, then you would have a massive war chest of probably $100 million. That would make you one of the premier exploration companies in Canada unleashing the drills that would be self-funded many, many years to come."
A Ton Of Torque To The Upside
Tim Clark:  "It's an amazing opportunity right here because we are just in the sweet spot of this bull market, despite the volatility. And what you want to do when you get this kind of run in commodities is you want to find a company that has a ton of torque to the upside. And a company in the small cap space is usually not situated like this with multiple assets, a huge cash position, which includes marketable securities, and is massively undervalued. We are trading at 0.1 times Net Asset Value, and we have a staggering $65 million of marketable securities.
And what's really important, Eric, is that we have remarkable assets in Canada, which is exactly where you want to be with this kind of geopolitical backdrop. And we also have a lot of torque with Committee Bay, which is essentially a 300 kilometer land package that we believe has the potential to yield a massive high-grade gold discovery. We are also aggressively moving forward in Quebec and we see a lot of upside going forward in the next drill program and we're going to have the money to do it. So the future is incredibly exciting and that will ultimately be reflected in the share price. Fury Gold Mines, symbol FURY in Canada and the US.
ALSO RELEASED:  The Rule Of Law Is Breaking Down In The West's Financial System After London Metals Exchange Default CLICK HERE.
ALSO RELEASED:  BIG DAY FOR GOLD: Costa – Silver To Hit All-Time High, Pomboy – Gold Miners Have A Long Way To Go CLICK HERE.
ALSO RELEASED:  GOLD SURGES $75 & SILVER $1.70: Price Of Gold Hits New All-Time High! But Look At The Other Insane Markets CLICK HERE.
ALSO RELEASED:  Stephanie Pomboy – Last Opportunity To Buy Gold, James Turk – Gold, Silver And The Great Wealth Transfer CLICK HERE.
ALSO RELEASED:  ALERT: Ex-Senior Fed Trader Warns We May See Wild Scramble For Gold CLICK HERE.
ALSO RELEASED:  BUCKLE UP: Greyerz – The Dark Years For The World Are Now Starting In Earnest CLICK HERE.
ALSO RELEASED:  Michael Oliver – We Are On The Face Of A Move That Is So Dramatic For Gold & Silver That It Erases Any Prior Bull Moves In Terms Of Dynamics And Percentages CLICK HERE.

To listen to Michael Oliver discuss the dramatic upside move in gold and silver and much more CLICK HERE OR ON THE IMAGE BELOW.
© 2022 by King World News®. All Rights Reserved. This material may not be published, broadcast, rewritten, or redistributed.  However, linking directly to the articles is permitted and encouraged.