With the countdown to silver breaking out of a multi-decade cup and handle formation winding down, is it possible silver is headed to $700 after the $50 all-time high is surpassed?
A Silver Stacker's Dream
February 7 (King World News) – DowGoldEquals1:  Silver: A break out of the pink bull flag and yellow descending channel will activate a potential impulse move to the all-time high around $50.  A confirmed breakout above $50 sets a cup & handle upside target of around $700.
Silver's Massive Cup & Handle Formation Will Blastoff Above $50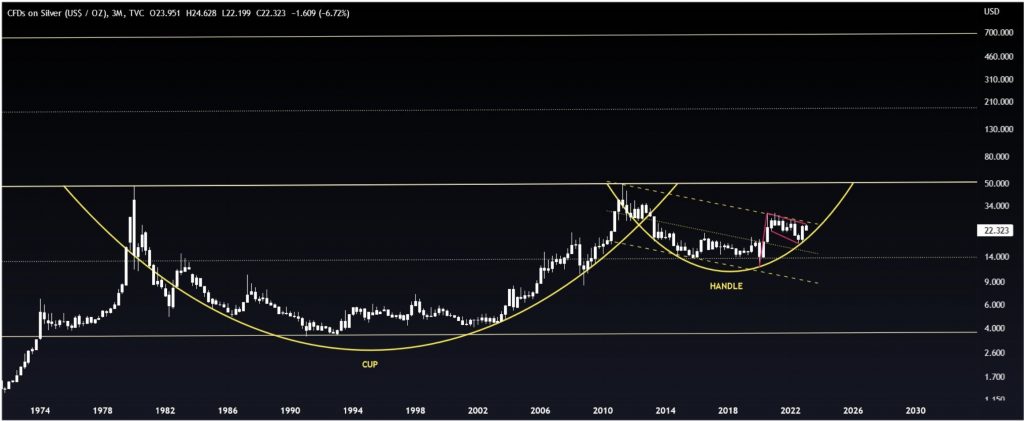 ALSO JUST RELEASED: Newmont Newcrest Merger May Kickoff A Golden Wave Of Merger Mania CLICK HERE.
ALSO JUST RELEASED: The Global Financial System Is Already Doomed And The Collapse Will Be Terrifying CLICK HERE.
To listen to Stephen Leeb discuss Putin, gold, China, the US and what surprises to expect in 2023 CLICK HERE OR ON THE IMAGE BELOW.

To listen to Alasdair Macleod discuss the $100 takedown in the paper gold market and what to expect next CLICK HERE OR ON THE IMAGE BELOW.

© 2023 by King World News®. All Rights Reserved. This material may not be published, broadcast, rewritten, or redistributed.  However, linking directly to the articles is permitted and encouraged.